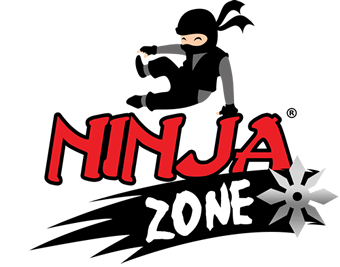 A whole new sport combining gymnastics, martial arts, obstacle training and freestyle movement - fused together to develop confidence and perseverance! Children learn flips, rolls, jumps, and kicks in combination with strength & ability courses.
Did you know? Our Ninja Zone Program is currently the only children's ninja program requiring instructor certification!
By opening up the world of Ninja Sport to your child, you are providing a unique way to focus their energy. Practicing the sport of ninja exercises the body and mind, builds character and cultivates discipline. Ninja Sport is a ton of fun for kids and instills values and techniques that provide an important foundation for your child's success.
Ninja Zone gives your child the confidence to take on any challenge and gives you peace of mind knowing that you are contributing to their physical, mental and emotional well-being.
Plus, your ninja will learn to kick, jump and flip like characters in their favorite video games-it doesn't get much cooler than that!
Baby Ninjas 18 months-3 years old
Lil' Ninjas 3-5 years old
Ninjas 5-12 years old
Classes are 45 minutes once a week. Tuition is $75 monthly and has a $35 yearly registration fee. Ninja uniform must be worn and the cost is $35 for the uniform package which is purchased at the gym. Ninjas should wear plain black shorts or sweatpants and ninja socks (socks are included in package). See more details in our Welcome Packet.